Gloria began her journey into weaving in 1987 when she received a small portable loom as a birthday gift. Always intrigued by how things worked, Gloria was immediately captivated by the way patterns develop from simple changes in warp and weft threads.
She began exploring weaving by studying at "The Mannings" in Pennsylvania, later, broadening her experience in workshops with such renowned weavers as Norman Kennedy, Madelyn van der Hoogt, Margaret Roach Wheeler, Makiko Tada and others. In 2014, she attained the prestigious designation of Master Weaver from the Handweavers Guild of America for her work in developing perspective in fabric through the use of color and texture.
In the studio, Gloria works with her husband Richard, a skilled production weaver, who assists in turning Gloria's original designs into dynamic finished products.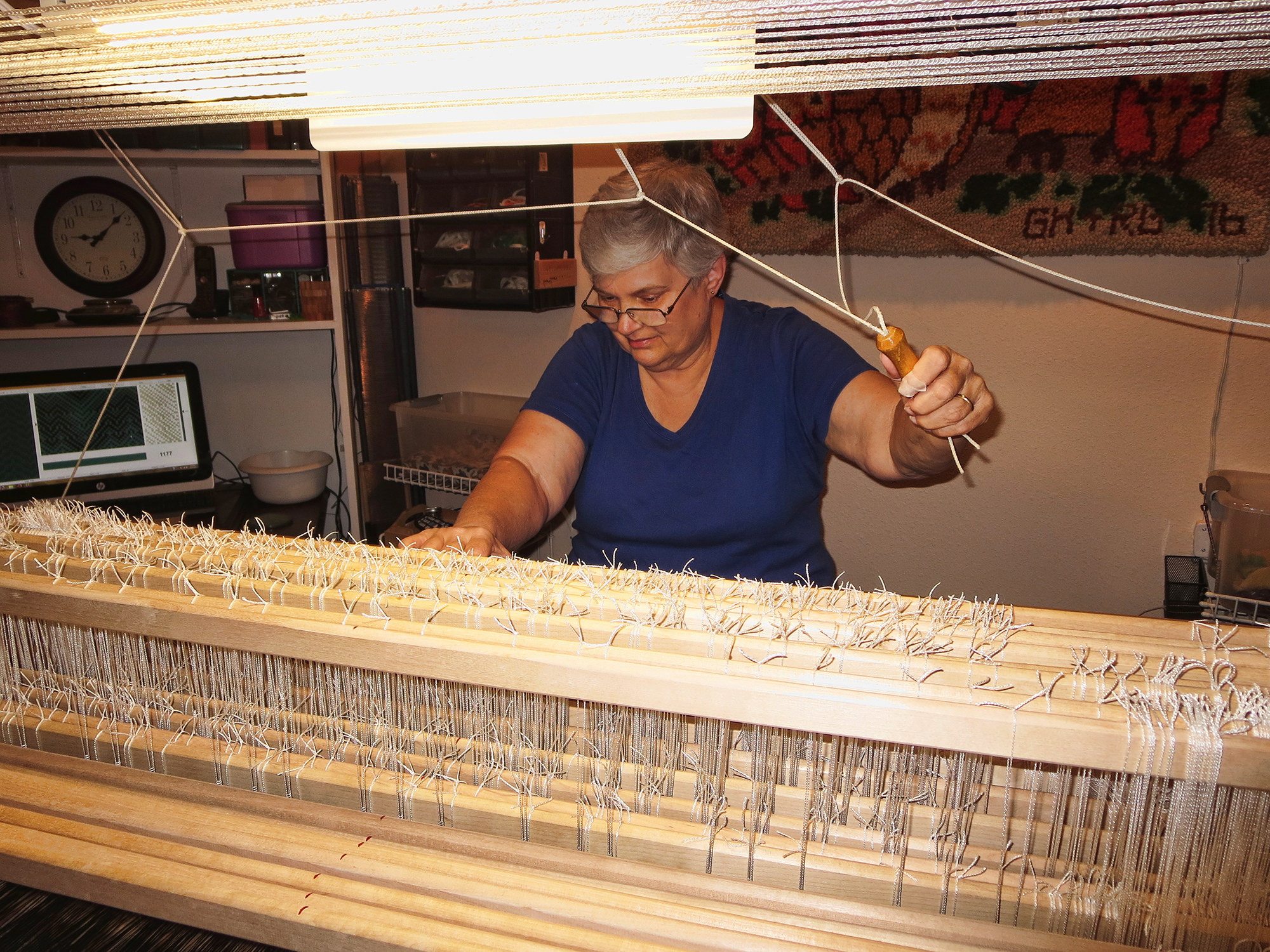 Weaving on the 24-shaft loom
Together Gloria and Richard produce one-of-a-kind and limited edition scarves, shawls, designer dishtowels and wall art. Their home studio is equipped with the full range of weaving equipment from the most basic hand operated looms to a modern computer assisted loom capable of producing highly complex designs.
Their work has been recognized by such groups as the Contemporary Handweavers of Texas, the Handweavers Guild of America Gallery Guide, ArtScape, Girls Inc, Open Door Arts Fest, Texas Crafts Exhibition - The Center for American History, "The Wacoan" of Waco, and others.
Richard and Gloria are members of the Handweavers Guild of America, Complex Weavers Guild, and Fort Worth Weavers and Spinners Guild.